Only UVB and UVA rays ever reach the earth's surface and therefore your skin.
UV Radiation and the Skin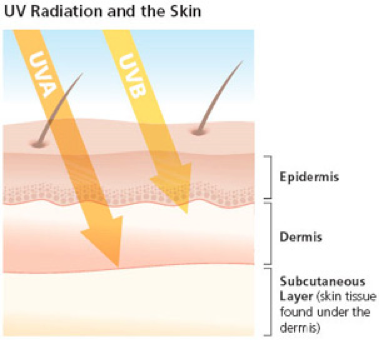 UVA rays penetrate more deeply into your skin and are primarily responsible for photoaging and tanning, whereas UVB rays don't penetrate as deeply, have higher energy, and are responsible for sunburns.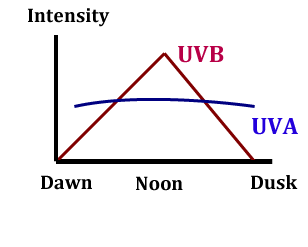 An easy way to understand the difference between UVA and UVB is to relate UVA to "light" and UVB to "heat". Look at the graph above. Notice that UVA is fairly constant throughout daylight hours, whereas UVB gathers intensity with the warmth of the sun, peaking at mid-day, and declines again.
Skin Cancer is More Prevalent in the U.S. Than All Other Forms of Cancer Combined!
Up to 90% of age-related changes in your skin are caused by UVA radiation.
While UVB rays are absorbed in the epidermis, UVA penetrates deep into the dermis and damages the collagen, elastin and other fibers that give skin its structure and a smooth, youthful appearance. UVA also reduces your skin's ability to repair itself and eventually will result in wrinkles, dark spots and sagging leathery skin.
SunFly is also developing broadband (UVA/UVB) indicators for the Cosmetic industry to help daily sunscreen users apply and maintain broadband protection to their face, neck and hands.