---
SunFly UV Exposure Stamps
---
Working with top experts in the field of photochromics, SunFly is developing invisible ink stamps that you wear underneath your sunscreen that will saturate with color indicating when to reapply more sunscreen. Upon reapplication, the image will fade to clear again showing you are once again protected.
---
SunFly Clear Zinc Sunscreens
---
Our flagship product will be our clear zinc sunscreen with our UV exposure stamp built into the cap. Our patent pending double flip top cap will allow you to quickly and easily stamp your skin and apply sunscreen by simply flipping the cap in opposite directions.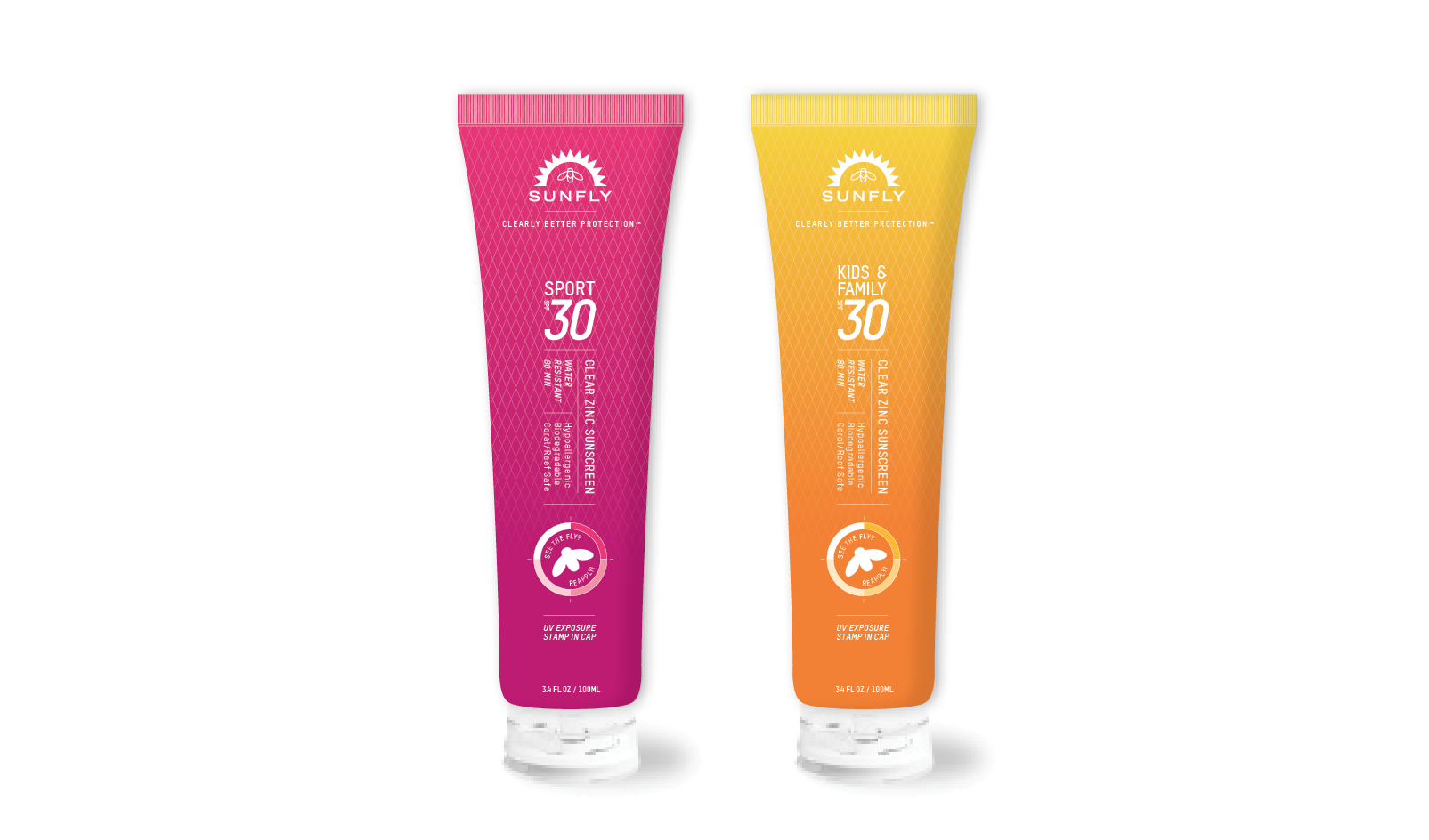 Why SunFly Sunscreen?
---
Working with leading OTC formulators, SunFly is developing sunscreens that are:
Zinc Oxide Only
The only active ingredient in SunFly Sunscreens is zinc oxide, which is widely regarded as the safest and best performing UVA/UVB protection out there.
Rubs In Clear
Unlike most other mineral-based sunscreens, SunFly Clear Zinc Sunscreens will rub in clear and will not leave a chalky residue.
Non-nanoparticle
SunFly's Clear Zinc formulations have the optical properties of nano particles, but are agglomerated into non-nano sized particles.
Safe
SunFly Clear Zinc Sunscreens will have a rating of 1 from the Environmental Working Group, their highest safety rating for cosmetic formulations.
Hypoallergenic
Repeat insult patch testing (RPIT) will be performed on our sunscreen formulations to ensure they are hypoallergenic and safe to use on sensitive skin.
Environmentally Friendly
SunFly Clear Zinc Sunscreens will be biodegradable and coral/reef safe.